Wealthtime Select STAR and Defaqto awards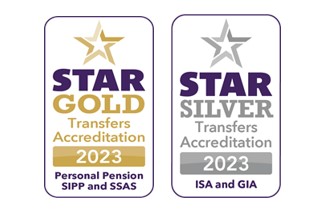 Over the years, we've consistently received prestigious awards and industry ratings. We're extremely proud of this and it drives us to continue delivering a great experience and excellent service year upon year.
We've recently been rated Gold by STAR. STAR assess financial services firms on their SIPP transfer times. It's a cross-industry initiative that aims to shape and promote good practice. We're one of only two firms this year to have received a Gold rating. It's fantastic to see all the hard work we've put into reducing transfer times being recognised.

STAR is the cross-industry initiative shaping and promoting good practice in transfers. The annual accreditation is designed to measure, recognize, and accredit transfer performance. Three STAR Accreditation levels of bronze, silver and gold are set through industry collaborations and designed to reward performance and encourage improved performance. Wealthtime Select has been awarded a Gold STAR Accreditation, across all performance metrics, covering the transfer processes and customer communication principles.  
Wealthtime Select also received a Silver rating for its ISA and GIA transfer services.

This year we've also been rated Gold by Defaqto for our platform and pension service. Defaqto is a leading financial information, ratings and fintech business. Their unbiased product information and ratings help consumers, financial institutions and advisers make better informed decisions.
For over 25 years, their experts have been collecting up-to-date information on thousands of financial products. By researching and analysing every product on the market they've created an easy and reliable way to compare them.
That means, in their trusted eyes, we're providing one of the highest quality offerings on the market.